Unlock vba project password excel 2013. Removing / cracking Excel passwords with VBA 2019-03-27
Unlock vba project password excel 2013
Rating: 4,4/10

455

reviews
#1 Remove Password From Excel Using VBA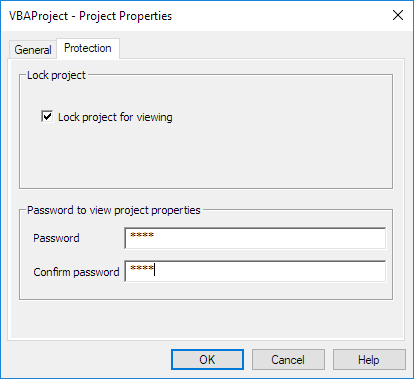 If your answer is yes for all these questions then, you are landed in the right place. A Janrain study found that nearly 2 in 5 people have to ask for assistance in remembering either a username or password every single month. Thanks for setting this up. It's not strange to forget a password for Excel files, but it's a bit strange to forget both Excel and Word and maybe Powerpoint and co. Have you ever thought to opt for a manual process for the same? But, there is always a possibility when you lost or forgot the password. Now if you want to write something in the sheet then you will get a message that the sheet is protected…. You should not have to change anything , sheet name etc.
Next
Remove password
Step 2 — Insert the code Copy and paste the code below into the general declarations page you have opened. The protection is removed when any password put through the same algorithm creates the same result. Redirecting Of Banned Users provided by - Copyright © 2019 DragonByte Technologies Ltd. Many thanks I've tested this tool only for those file that was in my possession. While the Password Recovery add-in may not be able to provide you with the exact password that was used to protect your file, it can provide you with one that is equal in Excel's eyes to the original password. Then, delete available passwords and unmark the Lock Project for viewing box. Workbook protection passwords Workbook protection is applied in a similar way to worksheet protection, but with fewer options.
Next
How to bypass the VBA project password from Excel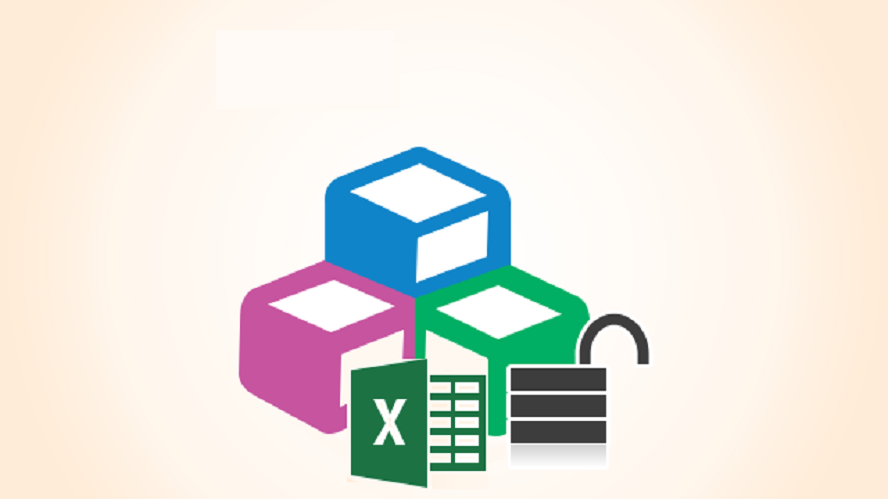 These passwords are certainly a great way of protecting and hiding workbooks for security reasons. This can be a terrible dilemma if users are in a time crunch or do not remember how they coded their projects. Protection of files keeps the files secured restricting other unauthorized users to access the file or make any changes. Finally, click Save on the Save As window. Step 4: Use The Generated Code The macro will return you to the worksheet you want to unprotect. As such, the first step is to unzip the workbook file with the zip software of your choosing I like 7-zip which will give you a listing similar to: Go into the xl folder and locate the vbaProject. Apparently according to this article, , that I go to starting with a link Ha14 posted, reports the password is decipherable by looking at the binary code of the file in a hex editor.
Next
[SOLVED] Unlock Excel 2013 Workbook
This file is very important for me so, I set a password on this file. Sadly, all my efforts go in vain. The passwords, or the encrypted versions of those passwords are stored within the binary file. A user can option any of these methods as per their convenience. The File Open password has now been set.
Next
VBA Password Recovery Tool to Unlock VBA Project Passwords Online
I would suggest that you select the activesheet before you check it for a password and unprotect it. However, this method consists of high chances of data loss and also needs technical knowledge to accomplish the task via it. Would you like to answer one of these instead? It does not find the password, but unlock the sheet anyway. Some code created for x32 Office should be adapted to run in x64 Office environment, unfurtunatly this tool have such code. The point of this thread is just to put it into the Vault for future reference, and to put all the methods in a single locations. Thankfully, we do not have to try brute force, because we can try other means. You should not have to change anything within the script.
Next
How to Unprotect VBA Project in Excel Without Password 2016, 2013, 2010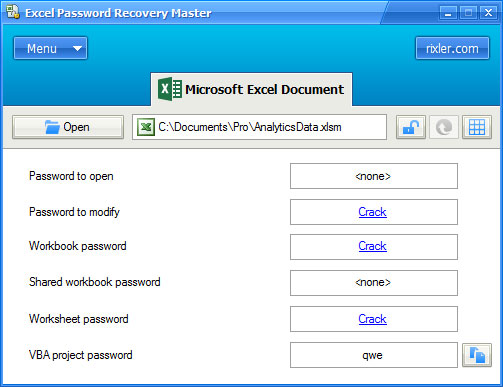 After a few minutes, a small pop up box will get open. Now if you do not know the password then you are unable to edit anything in the excel sheet. This Excel add-in will provide you with a workable password and remove any protection from your worksheets that you are locked out of. It is used in various applications such as Microsoft Word, Excel, PowerPoint, Access and all others. With that mindset, here's the file I use for cracking passwords. Open the file you just created with a simple editor. How Can I Recover My Spreadsheet Passwords? To apply the protection, click Protect Sheet from the Review Ribbon.
Next
Manual Ways To Recover or Unlock VBA Project Password
You are God to me! You are tasked with covering your boss's critical work for the entire week. User Alert System provided by - Copyright © 2019 DragonByte Technologies Ltd. Instant Access To Help From Your Ribbon The Password Recovery ribbon add-in has built-in links to bring you directly to the most up-to-date information on how to use your add-in. Then, try the second solution and save your time. This is an interesting issue.
Next
How to Lock VBA Project with Password in Excel 2016 / 2013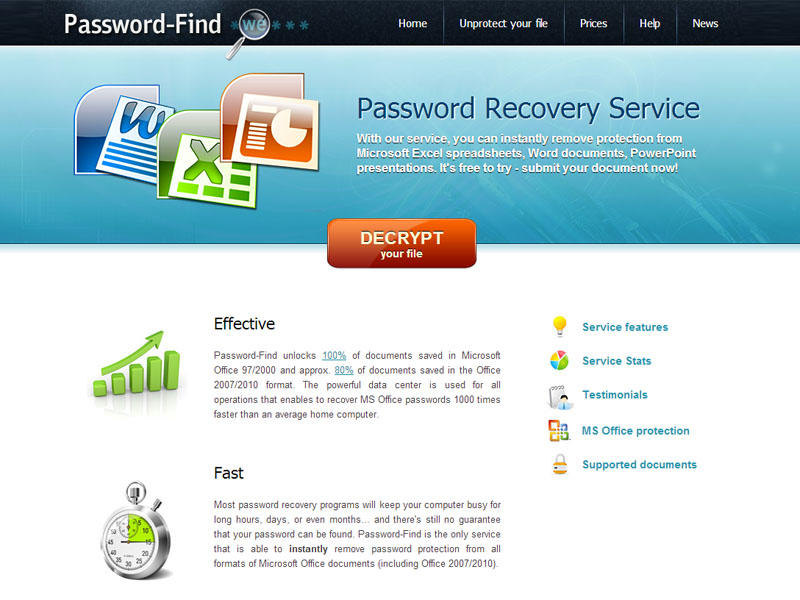 It will generate a usable code that will unlock your protected sheet. I searched a lot on this and found out that almost all methods screwed the file rendering it useless which I cannot afford as I had to send the tool. I'm using Excel 2011 for Mac. Browse other questions tagged or. However there is definitely a Vba within it that I created a number of years ago and it is password protected. Your sheet should be unlocked! Then, add the password as per your choice. Basically, you are recreating the workbook file now that you are done editing it.
Next